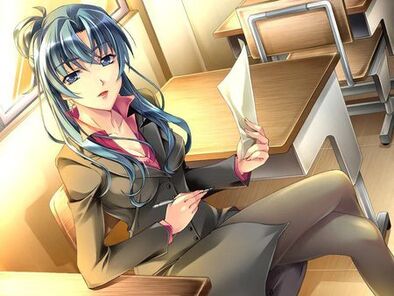 Uchino is the 28-year-old producer of 464 pro. 
Background
Edit
Uchino lived a normal life and studied Music at the University. She also got educated in management and accountance. Uchino always wanted to do something with music and found at the age of 20 a work experience in another, older agency. After that an old teacher of hers offered her to take over the agency 464. The agency used to be too unknown and the idols had to be fired and was at the edge of being closed. The agency got passed onto Uchino in the hope it'd go better then. 
Uchino organized auditions a few months after she took over the agency. 
Personality
Edit
Uchino is a bit of a strict person who works acording to a schedule. Except for that, she's a nice person who wants to recieve the best out of the idols she selected. Together with Fubuki she's trying to reach that goal.
Ad blocker interference detected!
Wikia is a free-to-use site that makes money from advertising. We have a modified experience for viewers using ad blockers

Wikia is not accessible if you've made further modifications. Remove the custom ad blocker rule(s) and the page will load as expected.