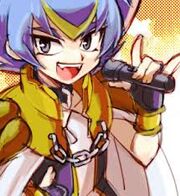 Spikey cool dude is awesome!
About Spikey
Edit
Spikey thinks he's a cool dude and the world's best singer ever but no! He's more of an adventure guy. He loves singing and hates the Schillings family. His singing skills are bad! And worst of all he calls Shadow Creepy. His position is midfielder.
His name is called Spikey, because his hair is spikey.
He's a Fire type.
He sings all the time.
He's a character in my fanfic.
Ad blocker interference detected!
Wikia is a free-to-use site that makes money from advertising. We have a modified experience for viewers using ad blockers

Wikia is not accessible if you've made further modifications. Remove the custom ad blocker rule(s) and the page will load as expected.