Sagawa Keina

Data
First Name
Keina
Surname
Sagawa
Nickname
Kei-chan
Biological Information
Gender
Female
Age
17
Date of Birth
January 18, 1996
Eye color
Green
Hair color
Brown
Species
Human
Status
Alive
Personal Information
Occupation
961 Idol (previously 464 idol)
Partner
Yajima Eiji
Residence
Tokyo, Japan
Nationality
Japanese
Miscellaneous
Abilities/Powers
Singing, Dancing
Anime
The Idolm@ster
Voice Actor
Kitamura Eri (Japanese)

Charice (English)
Keina is a 17-year-old girl used in the Idolm@ster Rps. 
Background
Edit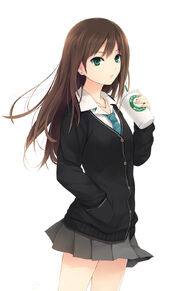 Keina is a normal girl. She loves to sing, but loves to dance even more. 
Keina used to have dancing lessons and was always the top-dancer of her group. But even though she was the top-dancer, she gave the big roles in performances to other girls. She always said that hearing she was the best of the class was more than enough, so the other girls deserved the opportunities and experiences. Instead of having the main role in the performance, Keina always took a smaller role, so she'd also get some experience
Personality
Edit
Keina is a kind and friendly girl, but she can't stand it if someone insults, bullies or hurts one of her friends. This causes Keina to clash a lot with Yajima in order to defend her friends (mostly Nanami). Keina herself doesn't mind if she gets insulted since she'll just ignore it.
Reason to sing
Edit
Keina's reason to sing is because she wants to make people happy with her music.
Her family arranged that she could do auditions to become an idol. They said they wanted her to make her dream come true. Since then Keina has had another dream: to make people happy and to inspire them to achieve their own dreams, no matter how hard or how far that dream seems to be. She wants to touch people with her music and make a change in their lives. 

Voice and songs
Edit
Audition song: Sora wa takaku kaze wa utau
These are songs Keina sings with this voice.  Japanese:
English:
** The songs and voice belong to Kitamura Eri/Charice and producers, writers, etc.
Keina is left handed.
Keina's favorite colour is purple, but she also likes red.
Keina is learning how to play the bass for the new 464 pro band, Constellations.
Ad blocker interference detected!
Wikia is a free-to-use site that makes money from advertising. We have a modified experience for viewers using ad blockers

Wikia is not accessible if you've made further modifications. Remove the custom ad blocker rule(s) and the page will load as expected.