Paige Harisson

Data
First Name
Paige
Second Name
June
Surname
Harisson
Biological Information
Gender
Female
Age
15
Date of Birth
May 23, 1998
Eye color
Blue
Hair color
Brown
Species
Human
Status
Alive
Personal Information
Occupation
Singer
Residence
London, England. (currently on world tour)
Nationality
English
Miscellaneous
Abilities/Powers
Singing, performing
Anime
The Idolm@ster
Voice Actor
Avril Lavigne (English)
Paige is a 15-year-old English singer who's currently on a world tour. 
Background
Edit
Paige grew up on a farm in Ashford. She used to help her parents with the animals when she was old enough. In her free time, she always played with their two dogs. When the oldest dog passed away, Paige eventually got a new dog, a puppy, called Joker not long before she started her worldtour.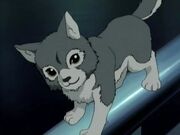 Paige always used to sing while helping on the farm and on the bike. She loved and still loves to sing. Paige competed in singing events and school performances as much as possible. That's when she got discovered. Ever since then, Paige has been a singer. But since a few years, Paige has been very ill and even had trouble performing. But knowing she would have less longer to live, Paige still decided to do the world tour because she didn't want to waste her life. Now Paige has to rest for a few days after every concert, but tried not to show or worry her fans with it. 
Personality
Edit
Due to her illness, Paige wants to see more of the world and see and experience as much as possible Paige thinks it's better to have a shorter life in which you achieve your dream and experienced several of things and sees several parts of the world than live longer but without achieving anything.  
Paige is a friendly girl, but often just says what's on her mind without realizing it could hurt or annoy people around her, which once happened when they were looking for a duet partner for Paige's concert in Tokyo. Paige just said to her manager, in front of Keiji, Antonio should also get a chance to show what he could do or sing, while her manager already gave Keiji the part, leading to Keiji being annoyed at Paige for her disrespectful behavior. 
Current Situation
Edit
Currently, Paige is on a world tour. She just released her album in Europe and it was a big hit, that's why she has brought out her album in more countries outside of Europe. She's touring through:
The UK
Germany
France
Spain
Italy
The US
Canada
Japan
Australia
Some of Paige's songs are:
Best years of our lives With Antonio Di Cabrini
Let me go With Hagiwara Keiji
Songs belong to the real producers, writes, Avril Lavigne, etc. I do not own them.