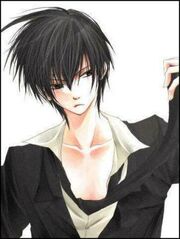 Backstory
Edit
After multiple near death experiences as an infant, Kabino's parents sent his off to a foster home for their own saftey. Not much has happened over the course of his life growing up. he never made friends nor enemies. it was just very blank throughout his childhood. During his childhood Kabino has also lived in the wrong sides of the world where it is a torn down culdesac as some people call it.
Personality
Edit
Kabino is usually lazy and always retorts and knit-picks over the little problems in life, often has Relapses from his unknown blue sparring, and would mostly takes all things seriously.
Appearance
Edit
Kabino has Black hair, a small unseen scarf, and is Slim yet muscular Young man
Ad blocker interference detected!
Wikia is a free-to-use site that makes money from advertising. We have a modified experience for viewers using ad blockers

Wikia is not accessible if you've made further modifications. Remove the custom ad blocker rule(s) and the page will load as expected.