Caroline is a 16-year-old girl used in Superpowers RPs.
Caroline Bradley

Data
First Name
Caroline
Surname
Bradley
Biological Information
Gender
Female
Age
16
Date of Birth
April 25
Eye color
Blue
Hair color
Blonde
Species
"Human"
Status
Alive
Personal Information
Family
mother, father, brother
Miscellaneous
Abilities/Powers
Unknown
Background
Edit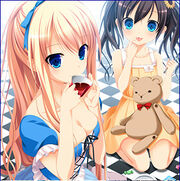 Caroline grew up in a small house with her parents and brother. She was sent to the school for people with special powers when she was old enough because both her parents and brother had powers. But so far, Caroline hasn't discovered any of her powers yet. This caused that she became an outsider and got bullied for being "different".
Personality
Edit
Caroline is a silent girl who tries to stay out of other people their business. She is usually alone and barely trusts other people. She doesn't want to accept help from others, thinking it's not their problem or that they might want something from her.
Ad blocker interference detected!
Wikia is a free-to-use site that makes money from advertising. We have a modified experience for viewers using ad blockers

Wikia is not accessible if you've made further modifications. Remove the custom ad blocker rule(s) and the page will load as expected.